Packaging tape is vital to shipping your products or items safely, but how do you know which tape is best for your needs? We've put together a packaging tape guide so you can explore your options and determine which type of industrial shipping tape is right for you.
What Are the Different Types of Packing Tape?
Many types of packaging tape are available. Let's dive into the most popular options.
Masking Tape
Masking tape, also known as painter's tape, is one of the most versatile, pressure-sensitive packing tapes available. It's a paper tape commonly used in painting, crafting, labeling and lightweight packaging. It's a great choice to avoid leaving marks or residue on your packaging materials.
Masking tape comes in various colors, widths and thicknesses for many different purposes. It's also available in specialization varieties, such as heat-resistant masking tape safe for baking or color-coded masking tape to help you organize.
Filament Tape
Filament tape is a heavy-duty, secure packing tape. Also known as strapping tape, filament tape contains thousands of fibers intertwined and ingrained into an adhesive backing. This construction makes filament tape a durable option with a high tensile strength that avoids tearing, splitting and abrasion.
In addition to versatility, fiberglass-reinforced strength and durability, filament tape is popular for its clean removal. Industries such as automotive, electronics, food and beverage, and general manufacturing use it to:
Seal containers.
Bundle and secure items.
Reinforce protective packaging.
You can choose filament tape in various colors, strengths, widths and thicknesses to suit your needs.
PVC Tape
PVC tape consists of a flexible polyvinyl chloride film coated with a natural rubber adhesive. It can stretch without breaking due to its elastic properties.
PVC tape is ideal for heavy-duty applications, such as shipping large parts or bulky supplies. Workers enjoy using it because it releases from the roll quietly, doesn't stick to itself and readjusts easily if needed.
Additional features of PVC tape include:
High strength and durability.
Water resistance.
The ability to adhere to multiple sources, including cardboard.
You can purchase PVC tape in various thicknesses, widths, lengths and colors.
Copper Foil Tape
Copper foil tape consists of a strip of copper backed with a layer of adhesive. It's a must-have if you're shipping products sensitive to static electricity. This type of tape is often used in electronic design and production since electronic components are susceptible to static.
Copper foil tape is flexible, allowing you to bend and shape it to meet your needs. Its versatility makes it appropriate for a wide array of tasks. A few common applications for copper foil tape include:
Electromagnetic shielding
Telecommunications
Static charge draining
Paper circuit creation
Cable and wire wrapping
Crafts and domestic use
You can choose conductive or non-conductive copper foil tape to suit your needs. Conductive copper foil tape can conduct electricity on both sides, whereas non-conductive copper foil tape can only conduct electricity on one side.
Military Specification Tape
Military specifications, or mil-specs, were developed to help standardize and unify the selection process for materials used by the military. Mil-specs make it easy for engineers to find and select products suitable for military applications.
The military uses mil-spec tape to ship and store packages, among other things. However, it's also available for your business's packaging needs. Mil-spec tape must meet rigorous standards, so if you choose to use it to seal your packages, you'll receive consistent quality from each roll.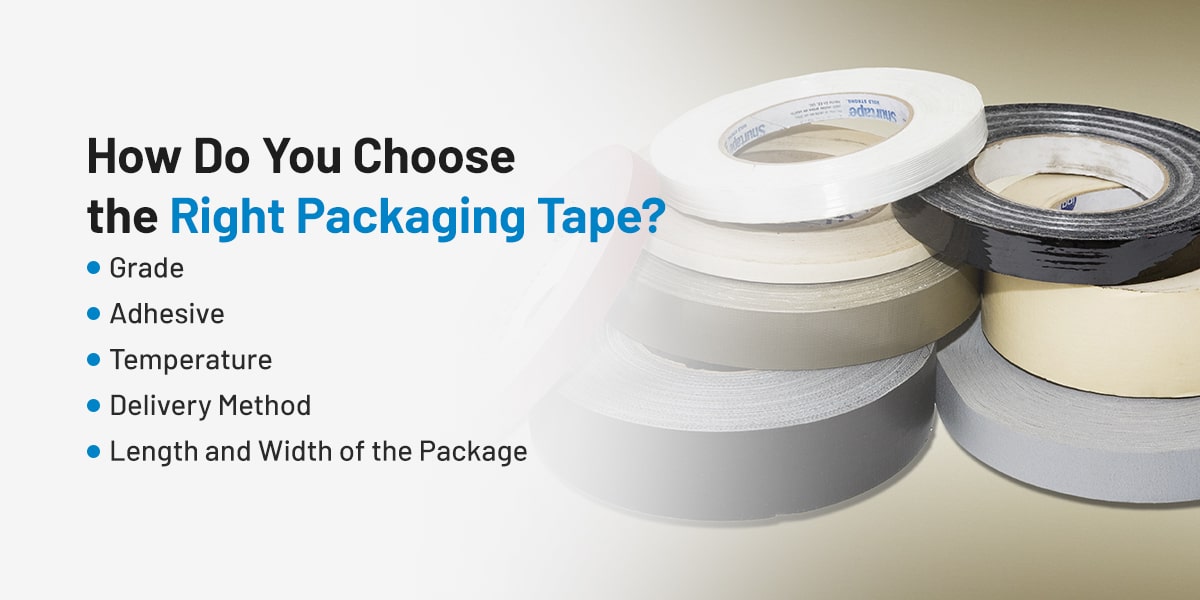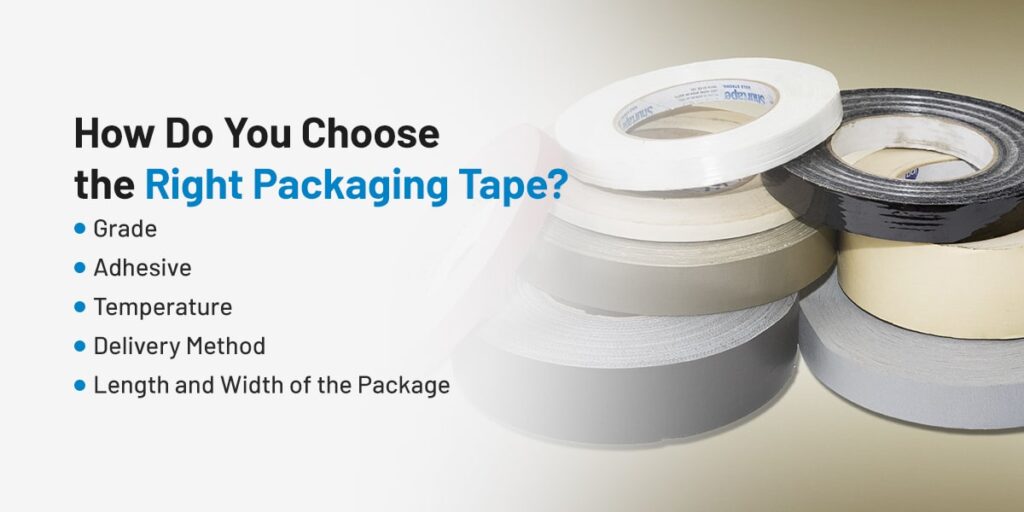 How Do You Choose the Right Packaging Tape?
With so many options, it can be difficult to know what is the best packing tape. Consider the following factors to help you make your decision.
Grade
Grade refers to the tape's thickness, indicating its holding power and tensile strength. Packaging tape is available in various grades. When deciding which grade of tape to purchase, consider factors like package size, weight and the manufacturing and shipping environment where the tape will be used. You'll want to use higher-grade tape for larger, heavier packages in more extreme environments.
Lower grades are best for holding lightweight packages together, while heavier grades are best for sealing boxes and containers.
Masking tape, for example, has a low-grade and is useful for lightweight or less intensive shipping. Filament and mil-spec tapes are higher grades and recommended for intensive handling.
Adhesive
You can choose packaging tape formulated with different adhesives. Here are three adhesive options:
Acrylic: While a bit more expensive, tapes with acrylic adhesive can hold up in extreme hot and cold temperatures, so you can safely ship products regardless of the climate or weather. It's a top choice for plastic materials, but it's useful for other materials, too. Acrylic tape is suitable for packages that stay at warehouses or a single location for an extended period.
Hot melt: Hot melt adhesive tape is made of thermoplastic polymers. While it cannot perform at the same extreme temperatures as acrylic tape, hot melt tape is stronger. It's appropriate for shipping products in relatively steady temperatures.
Solvent: Solvent adhesive packing tape is ideal for heavy-duty packages and can perform well in high temperatures and humidity levels.
Temperature
Temperature can play a significant role in the effectiveness of your tape. For example, in colder environments, tape can lose its adhesion and break the seal you created.
You can avoid this problem by using specialized tape. As discussed, many tape varieties can accommodate hot or cold weather.
Delivery Method
Your products' delivery method should also inform the type of packaging tape you use. Packages can experience many adverse conditions or events during shipment, so it's essential to use protective tape and packaging materials.
Your packages will be subject to more pressure if they are shipped individually, so heavy-grade packing tape is best. However, bulk or other group shipping options may only need lower-grade tape.
Length and Width of the Package
Above all else, you want to choose a quality packing tape that creates an effective seal on the openings of your packages. Long and wide boxes require more and stronger tape than smaller boxes.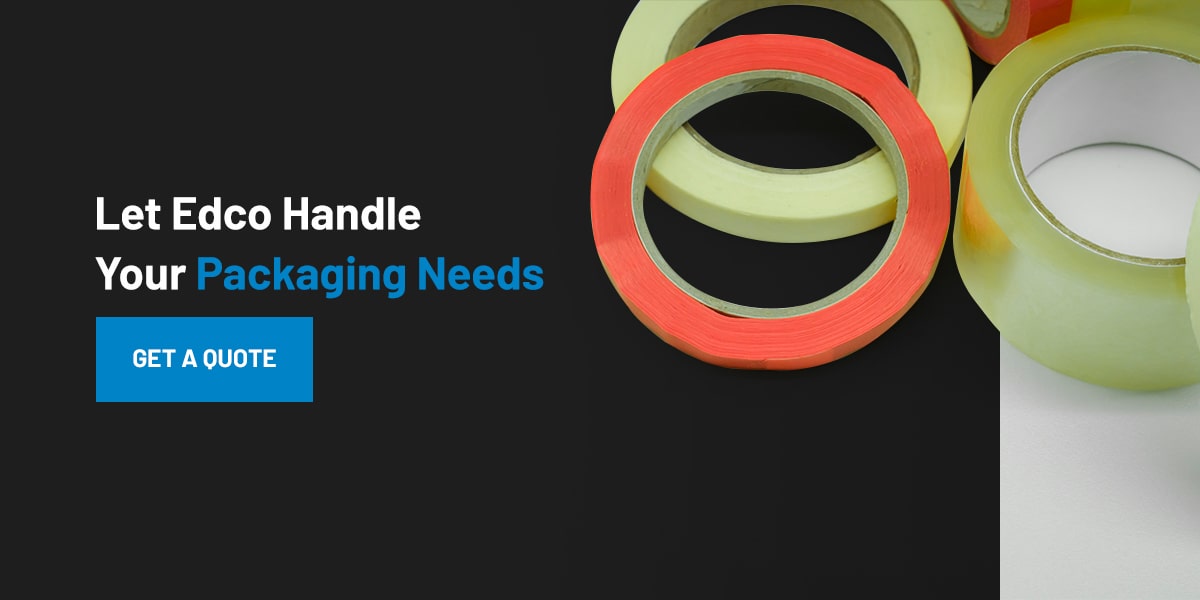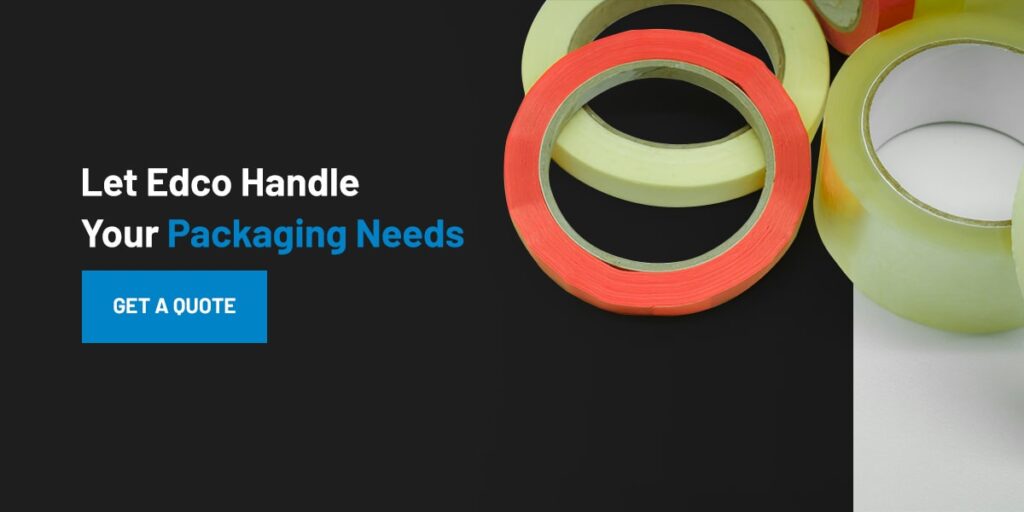 Let Edco Supply Corporation Handle Your Packaging Needs
Edco Supply Corporation is a leading supplier of stock and custom packaging that meets military specifications. We also supply products for other industries that need specialized packaging.
Our offerings include folding cartons, industrial packing tapes, commercial poly bags, static shielding packaging and moisture-barrier packaging. You can rest assured that products from Edco will provide reliable protection from the stresses of shipping.
If you or your company works on military projects, consider Edco your top source for premier protective packaging solutions that meet your contract requirements. Request a quote today!